HAPPY 4TH OF JULY TO MY AMERICAN FRIENDS!
I fell in love with this fabric when I seen it on Shannon's blog one day,(Last year!!!) I asked her where she got it and she sent me the rest of what she had, the sweet girl. I haven't had the little dress made up yet but I did set some aside to make me some new new scrubs!!! Doncha love em! I have navy blue scrub pants to go with it. I'll post a pic of the dress for our baby girl when I finally get it finished. Thanks once again Shannon!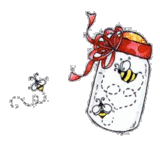 This is my other latest project. I have a few of these country looking signs that I have painted and put up in various places in the house. I thought this one turned out really sweet with the ladybugs!!!! I have it on a shelf in my newly painted green kitchen.

Not much is happening in the blogmosphere lately. RQ has heard rumors that the CCAA has matched up to November 14th, so right now I can just took forward to small achievements like our file getting threw the review room, and living our process vicariously through all of you who are receiving referrals before us.
So far I've only seen one pedicure gals.....I guess I'll have to tempt your tootsies with some home/spa instructions to shape 'em up will I? Well, one such temptation has the word chocolate in it!!!!! Perk your intrest yet?