Wow, hard to believe I have met some of my blogger friends a year ago!
Lee-Anne
was the very first person to post a comment on my blog and she offered to help me add links or pictures to my blog. (Thank Lee-Anne) From that day on I have been hooked! You have

all

been great support for me and I have to say I have learned more from all of you than from our agency.
( Not that our agency wouldn't go out of their way to answere any questions we may have, I just found the answeres on your blogs and didn't have to contact them)
I just want you all to know I love you all and thank you for being here for me through good times, and bad.

;

o

)
Thanks secret pal for the really sweet Gymboree outfit for March secret pal exchange. I love the Asian themed material. We don't have a great selection of stores here in our town so it will be nice that she won't pass herself on the street!

Hubs had his first set of travel shots done on Friday.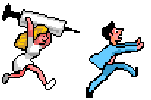 He said it hurt..........poor boy!.......anyway the Dr. thought it would cheer him up to have a Tigger band aid on. I just got a plain old yucky one, I guess I wasn't cute enough! LOL

I just thought I'd show this puppy off! We live in the Atlantic provinces and this lobster was found by a fisherman just off the shores of Meteghan, Nova Scotia. They are usually red and sort of purplish but the odd time they will find a bluish one, but this one is undeniably blue!
EDIT: Yes the Lobster is real, neat isn't it!