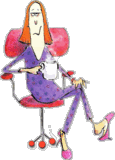 Lastnight at work I had a lady who came in for an appointment who was telling me about her ex husbands stepson who was in an accident on the weekend, he is 9 and his little half sister is 3. My husband was the first one at the scene to assist with helping til the medics got there, the two children were sent one by air vac and the other by ambulance to Halifax, NS, I.W.K children's hospital. Both are now stable and are believed to be non threatened by their injuries . The father is in our local hospital with a couple of broken ribs and pretty bad bruising no doubt.
She went on to tell me about how her son dealt with all having a very hurt little half brother and how Cole was so sensitive about how he must be feeling and sooo concerned about how his dad was and everyone else. Many times through the last few my client has had me near in tears with her stories about how truly caring ,selfLESS , thoughtful and sensitive her young son is.
Mr. Cole has truly inspired me.......His school is doing a "Penny Parade" for the I.W.K Children's Hospital and Cole knowing his little half brother is there at that very hospital rallied up his troops, Mom, aunts,cousins, grandparents and rolled over $10.00 worth of pennies and proudly donated them in honor of his little 1/2 brother. Other children in his class brought in baggies of pennies and they all bragged about their haul. One little girl in his class who was from a very poor family who's clothes were not so timely clad we'll say and hardly has a lunch each day brought in ONE penny and the children made fun of her . Cole was quick to put a few of them in their place my trying to make them understand that it was probably all she had.
Evidently from asking only about two little questions I realized who this little girl was and my heart broke for her. I almost imagine she didn't even have a penny but felt badly about showing up without one and I think she could have possibly seen one on the ground and picked it up and proudly displayed it to her teacher. Regardless Cole's heart has caught my attention and I have surmised a plan to go to the school this morning with a huge piggy bank full of pennies that we have been saving (along with our other change of course) for our China trip and go to the office and ask them to call this little girl in and offer up these pennies for her to give to her teacher for this needy cause. When she came to the office her big brown eyes of wonderment caught my attention and I almost melted.
She asked no questions just did as I asked and brought the jar of pennies to her teacher. Before I left the secretary asked if I would leave my name incase the little girl ever asked who I was. I just exchange a smile with her and she understood as I left.
This little girls efforts are a true example of reaping what you sow. I don't want her to know who I am, but I have knowledge of her background and I have walked in those same shoes once upon a time when I was a wee little girl, and my heart has been reminded of that from another heart in a 10 year old little boy. So Cole this was really inadvertently for you. You are a huge inspiration to sooo many people, don't EVER change. It's people like Cole who little by little can etch away a few things gone wrong with this world. At least that's my "two cents" worth.
"Speak up for those who can't speak for themselves... -Proverbs 31:8