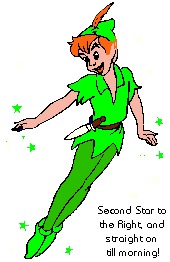 I am a little bummed out these days, Jaclyn has decided to move to Charlottetown. She has been traveling every day for College and it would be safer for the winter, but you see I was never prepared for the day my daughter would go out on her own, how will she survive without her mommy to take care of her?
Jaclyn and I have been connected at the hip since she was born, her dad and I separated when she was two so it was just her and I until I met Shane and even then we were glued together.
The movie Peter Pan was our favorite, she was Peter Pan who was never to grow up and I was Tink who kept her safe and guided her threw lifes ups and downs. I remember putting her to bed when she was at the age where things went "bump in the night" and I would have to pretend I was putting pixy dust over her bed to protect her and to help her to sleep.
The teen years struck and I was the cool Mom for awhile cause I was the youngest Mom of all her friends, but soon she realized I was the most strict when it came to enforcing the rules (You see she couldn't pull wool over my eyes cause I played all the games not so long ago myself!) Once she hit about 15 I wasn't so cool anymore. I remember moving out of home and soon after my Mom became my bestfriend. I guess this is what is supposed to happen next so I'll be patient and wait. (Something I've become very good at these days.)
Last night she asked if I wanted to watch a movie with her and I jumped at the opportunity to spend some Mom time with her(doesn't happen often enough), so we watched "HOOK" I started crying at the scene where Wendy lady looked up at Peter and said " Oh My! Peter you have grown."
I think she is having a bit of a hard time with it too, because this morning on the counter was a book, she had gone to the trouble of searching through some old boxes to find the "Little golden book" of Peter Pan that I bought her when she was little, inscribed inside is this!
"1992 this little golden book belongs to Jaclyn MacCallum, This book is one of your favorites. I'm sure I read it a hundred times. Love Mommy"
I just cannot believe those days are gone, I am really feeling empty nest syndrome right now. It is so hard sometimes to go to a new chapter in life when it is such a life changing event. I know she will be back to visit and she is only 45 minutes away but it will never truly be the same, I can only hope and pray that she takes everything good that I have tried to instill in her down this path of her new life. She really is a remarkable young woman, I see wonderful things in her future.
There was something she said to me once that I truly hate to admit but it is true was "Every time we go through something whether good or bad it always brings us closer together" I never wanted to admit to her she was right for fear she would think if she did something wrong I would have condoned it.
There is one detail with this move that is not settling well within my heart that I am not at liberty to speak about. The move is taking place on Saturday so if you think of us we really need prayer to get us all through this.
I know my nest won't be empty forever,and I trust that God will take care of her, so with this hope, Jesus by my side, a loving husband, a wonderful daughter, a caring family, and great friends this season in my life will pass and there will be a lifetime of happiness still ahead.
Thanks for listening to me I feel better getting it off my chest.
I'll be praying for all of you who are awaiting referrals this month. God Bless