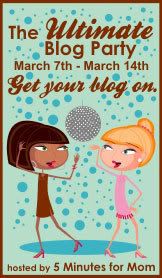 *I participated in the "Ultimate Blog Party" last year and met some amazing people and thought I'd join in the fun again this year. If you are interested in meeting new people just click on the banner and leave a comment on the 5 Minutes for Mom site, display your banner on your side bar and on the 7th of March put up a post that you would like your visitors to see.
* This coming Monday I'm hosting a girlz youth movie night at my house and I'm looking for some good ideas for some chick flicks appropriate for the ages of 13-19 anyone have some ideas?
* I'm also looking for some new icebreaker games for our Thursday night regular youth group. I like to keep the kids guessing so I try not to play the same ones over and over.
* I FINALLY WON A COFFEE WITH THE RRRROLL UP THE RIM AT TIM'S! It took 13 coffee to get it!
* Once again I missed hanging out with the gals from "World Class Moms." They have started a group in our area of moms who are adopting not only from China but from other countries. Hence the "World Class." They met at a local restaurant on Friday night. I hope to join them sometime soon. I think they try to meet once a month or so.
* Hosting our home to "Sunshine" has been a joy. She is getting along great. She says she likes her new school better than the one she went to for the first half of the year. She is excelling in math beyond our imagination. She is in grade 10 doing the highest level of grade 11 math our school offers. She said the stuff she is learning now in math is similar to what she learned in junior high back in China. I think one of the most exciting things about having her here is feeding her! She told her mom that I'm a good cook!!!!! Ha ha! She's just not a fussy eater which makes it easy and fun to cook for her. I just have to remember sometimes if she has never eaten it before that some things need instruction.....we ate at a local restaurant and we discussed a few things on the menu, she chose a hot turkey sandwich with fries and when she got it she ate a couple of fries and looked at the sandwich and then at me....she ate a couple of more fries and then with a sweet quizzical look she asked "How do I pick it up?" I felt so bad and stupid for not explaining it to her in the first place. How would she know if she had never in her life seen one. LOL.
* I'm learning a lot about the differences between teens in North America and teens from China. Being a mom of a hyper teen girl I have the proclivity to always be prepared to entertain and so I'm at a little loss with Sunshine as she is a very mature, low maintenance, independent kind a gal. I asked her what her and her friends did for fun after school in China and she said nothing much because they took after school classed in other things. She is very dedicated to whatever she puts her heart and mind to. So I'm always looking for little things for us to do that won't be overwhelming for her, such as just chatting or watching the odd movie, we baked cookies one day and there is youth group on Thursday. It's only been 4 weeks so we are still in the getting to know each other stage. My hope and prayer is that we will become such a big part of her life that even when she goes back home she will still keep in contact with us. I hope she will consider us part of her family. I know she will become a part of ours.
* Jaclyn came home with a gift for me the other day! She knows I love the song Bubbly which BTW is on my sidebar. It makes me happy when I hear it. I like to sing it to her, cause she is bubbly ;O) .
*
RQ
is saying Jan. 4th will be the cut off date for referrals. 8 days worth is 8 days worth! Bring on the referrals!