Ok
Lisa
tagged me. So I'm supposed to list 3 of my favorite comfort foods.
1. It might sound gross but you have to try potatoes, hamburg, and corn all mushed up with a blanket of ketchup over top, smothered in pepper. It has been a favorite of mine since I was itsy bitsy.
2. I
<3
Irish Nachos, It's a dish that a restaurant (The Heritage) in our town has. It's a plate of fries with melted shredded mozzarella cheese through out and bacon bits, sprinkled with jalapenos then topped with ranch dressing!!!! My mouth is watering thinking about it!
3. "Udder"ly Divine ice cream, it has chocolate swirls through the vanilla ice cream and little mini caramel cups! It is truly utterly divine.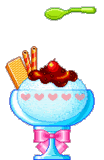 If any of these sound yummy, consider yourself tagged!