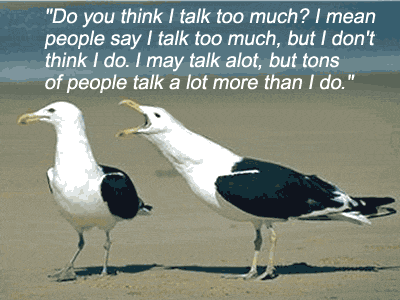 These guys did more than talk all night, they
poured mushroom soup all over my car! Dirty Buggers!
Ok. It's late but hey, better late than never right!

Dawn
and
Kim
both tagged me. So here it goes.

4 Facts about me.


1. I married the man of my dreams....

2. I went to 12 schools in 12 years.
Englewood,St. Lewis,O'Leary, Bloomfield,
Alberton, O'Leary( again),Parkside,Greenfield,
Kensington, SIS, Hernwood and Westisle!!!

3. My Dad passed away when I was 6 and 31
years later I still cry for him, and it is OK.

4. I am a sentimental fool. Can you tell?

4 Habits.

1. I have a panda teddy bear that my daughter
gave me a month after we told her we were
adopting and it sleeps with me every night.

2. I fold my laundry right out of the hot dryer
so I don't have to iron!

3. Chewing the inside of my cheek. Ouch! gotta stop that.

4. I have to listen to my Christian rock radio
station when I clean the house.


4 New things or discoveries I've experienced in the last 4 years.

1. That I couldn't get through this wait without all my
friends,family and bloggy buddies. Thanks everyone.

2. That Gods timing is not at all like my own.

3. That being paper pregnant is in every way as much
or more emotional than a physical pregnancy.

4. That I CANNOT sing no matter how hard I try, I still
sound like I just got my foot stepped on by an elephant!


4 Things to do or try in the next 4 years.

1. Go on a 12 hour flight half way around the world to be
united with our daughter once and for all.

2. Fall asleep and wake up holding her and it NOT be a dream!

3. Kissing the top of my baby girls head and smelling her hair.

Y



3. Walk into Church for the very first time with our daughter
and take a mental photograph of the smiles on every ones
faces. I know that they have been waiting and praying with me.

So I'm supposed to tag 8 people and I'm pretty sure that by now this one is pretty old, so if you haven't been tagged, your it. Leave me a comment and I'll check out your list.